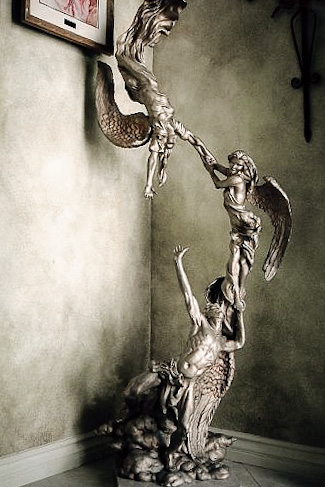 We Can Fly
Size: 60″h x 34″w x 34″d
Available in: Bronze
Inspired by the following poetic verse: "We are all like angels with only one wing, and the only way we can fly is by embracing each other." Luciano De Crescenzo
With this playful trio, Delesprie again captures the essence of her quoted muse. However, instead of embracing, these captivating creatures appear in the midst of a good-natured angelic diversion.
At the base is an African-American male with his feet pushing off the clouds. Modestly draped, he holds one arm toward Heaven and the other bent at the elbow to support the foot of the next figure, a graceful Latina. Her laughing smile indicates she's thoroughly enjoying herself as she in turn clasps the arms of the third angel, a Caucasian. Suspended upside-down, her hair indicating the presence of gravity, she also expresses carefree joie de vivre.
Of special note is the detail involved with each angel's lone wing and the fluid movement between the three playmates, one of Delesprie's best-known trademarks.
back to main