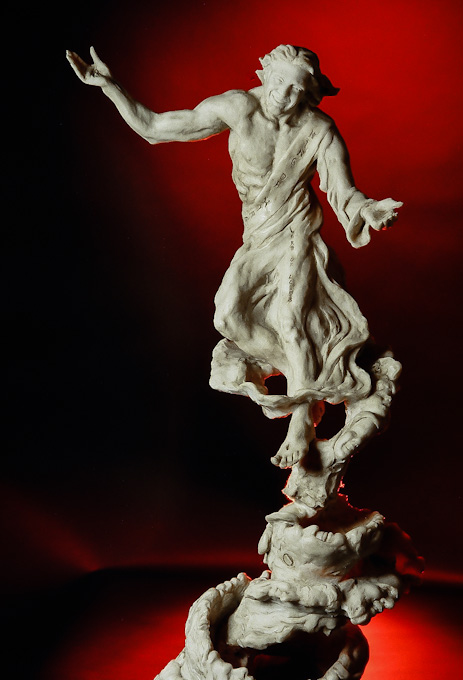 There Will Be No End
Size: 33″h x 14″w x 14″d
Available in: Bronze, Cold cast bronze
And then at last, the sign of the coming of the Son of Man will appear in the heavens, and there will be deep mourning among all the nations of the earth. And they will see the Son of Man arrive on the clouds of Heaven with power and great glory. And He will send forth His angels with the sound of a mighty trumpet blast, and they will gather together His chosen ones from the farthest ends of the earth and Heaven. Matthew 24:30-31
This statue is a depiction of the End Time. The focal point is Jesus as He descends from Heaven. Jesus, with arms outstretched in an invitational pose and a face radiating anticipation, is clad in glory.
At the base is an opened scroll. The seven seals that had kept the contents of the scroll from being read are now scattered throughout the sculpture. Depicted by letters O, J, Y, S, M, A, and G, all hidden in plain sight, each "seal" begins one of the many names of Christ.
Seven shofars encircle the base, as do seven angels, which appear to be transmuting from angel to spirit.
The whirlwind reveals faces sculpted along the edges representing Jesus' followers from all the peoples, tribes and nations throughout the ages. Possible identities could be Old Testament patriarchs, those who walked alongside Jesus during His years of ministry and even 21st century believers.
back to main