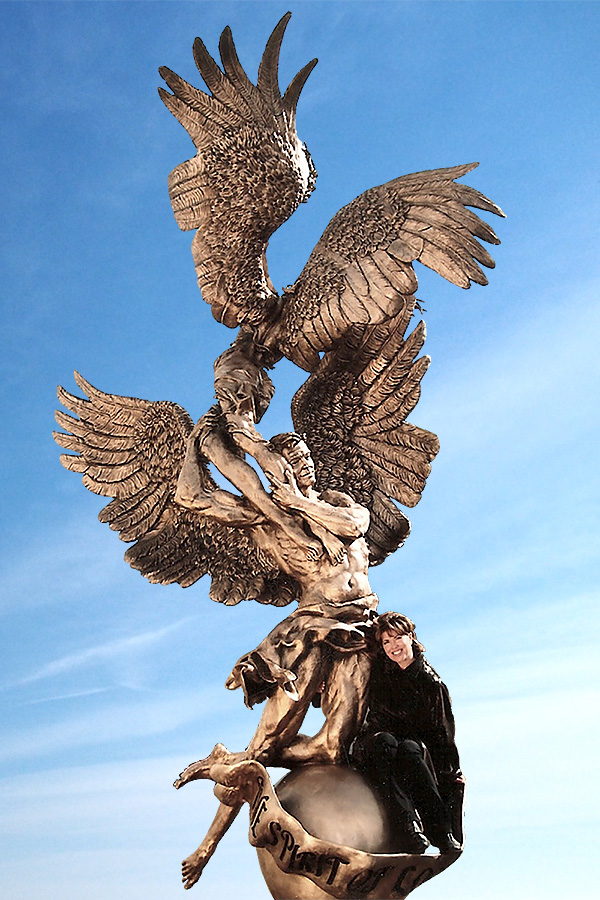 Spirit of Los Angeles
Size: 32 feet high
In the year 2001, Delesprie was commissioned by developer Rick Caruso to design the monument of two graceful angels caught in mid-flight as an Iconic point at the Grove, a new development adjacent to the Historic Farmer's Market in the Fairfax district.
This was a 12 month endeavor from models to final installation. The sculpture was assembled on top of the column by crane near the Barnes and Noble building. This magnificent work stands over 32 feet high; the wingspan of the angels is more than 10 feet. The unveiling of the monument occurred complete with fireworks, a sit-down dinner for 2,000, and accompanied by a 40 piece orchestra from Dick Clark Productions.
The figures appear to be engaged in an elaborate ballet; scrutiny reveals the male kneeling on a world globe. His mighty power is evident with masculine anatomy, but also in the way he embraces his companion securely with strong arms supporting her legs. The sculpture is Timeless in appearance.
The female holds a wreath of peace, her countenance speaking of her joie de vivre. Her posture is fluid, yet she draws strength from the knowledge of their destiny and purpose. Perhaps of the two, she is the one who penned the words on each side of the pillar upon which the globe is supported: Faith, Community, Family, and Honesty. Together with Peace, these truly are attributes of an idealistic society.
The smaller version titled, "Pillar to the Heavenlies", is 58.5″ h x 23″ x 23″ including a marble base. The ribbon banner that encircles the globe can be inscribed with any message of choice.
back to main