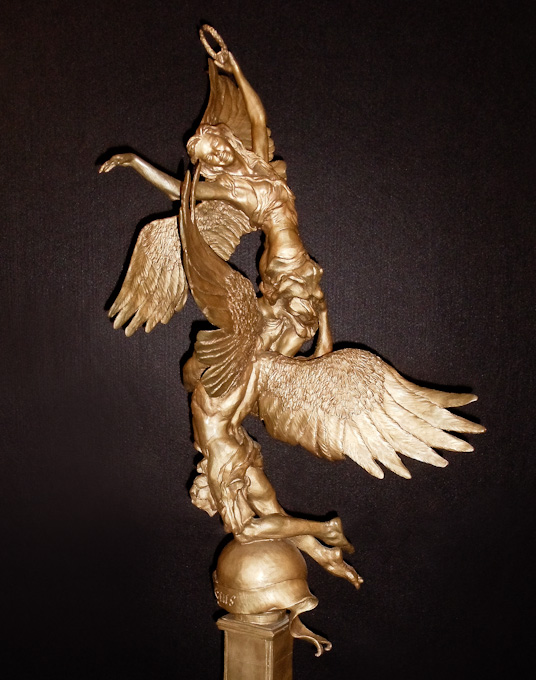 Pillar to the Heavenlies (Small Version)
Size: 58.5″h x 22.25″w x 23″d
Available in: Bronze
At first glance, the main figures appear to be engaged in an elaborate ballet, but closer scrutiny reveals the male is kneeling on a world globe. His mighty power is evident with masculine anatomy, but also in the way he embraces his companion securely with strong arms supporting her legs. Timeless in appearance, his long hair caught back at the neck, compassion is seen in his facial expression as he gazes thoughtfully.
The female holds high a wreath of peace, her countenance speaking volumes of the joie de vivre she feels. Her posture, while fluid, is still demure, yet she also draws strength from their Creator and the knowledge of their destiny and purpose in being. Perhaps of the two, she is the one who penned the words on each side of the pillar upon which the globe is supported: Faith, Community, Family, and Honesty. Together with Peace, these truly are attributes of an idealistic society, one that is yet to come.
The ribbon banner that encircles the globe can be inscribed with any message of choice.
back to main